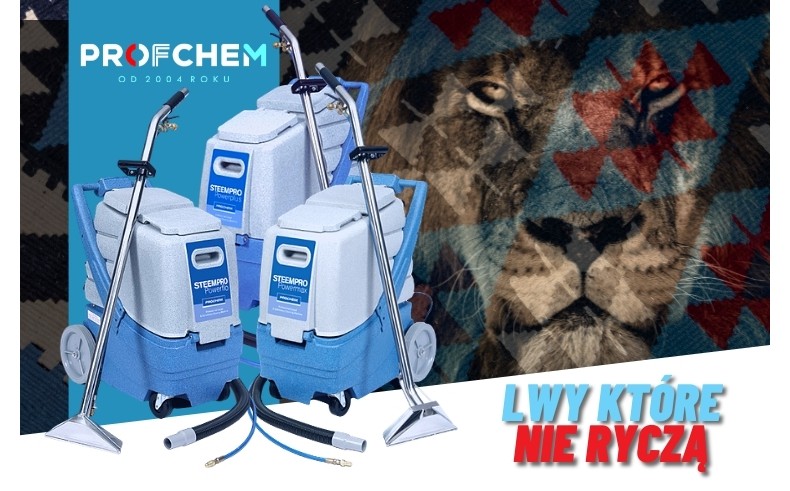 Lwy które nie ryczą
Ciche, ale skuteczne – tak można opisać maszyny z serii Steempro 2000. Są to przenośne ekstraktory do czyszczenia ekstrakcyjnego dywanów i tapicerek, także do ekstrakcji gorącą wodą.
Steempro to najlepiej sprzedająca się maszyna Prochemu. Dlaczego? - tłumaczy John Taylor 
Jest przełomowym rozwiązaniem na rynku. Firma wykorzystała szansę, która pojawiła się kiedy firma została zaproszona jako konsultant podczas tworzenia projektu nowego typu ekstraktora. Przedstawiciele fabryki uczestniczyli w pracach od samego początku do końca. - Wiedząc, że osobom zajmującym się profesjonalnym utrzymaniem czystości zależy przede wszystkim na mocy urządzenia, skupiliśmy się na wprowadzeniu najlepszej jakości silników i części do projektu nowej maszyny. Jednak kiedy prototyp wszedł w fazę testów praktycznych, konsultanci doszli do wniosku, że czegoś mu brakuje. Owszem, była to lekka i silna maszyna czyszcząca, łatwa do przenoszenia, ale oprócz nowoczesnego kształtu i rozwiązania w postaci podłączanego podgrzewacza nie miała w sobie nic wyróżniającego. 

Konsultanci sięgnęli do doświadczenia firmy Prochem i opinii klientów. Przyglądając się bliżej problemom i sugestiom zgłaszanym przez użytkowników ekstraktorów zauważyli, że często pojawiały się zastrzeżenia dotyczące hałasu. Hałas jest uznawany za jedno z wielu zanieczyszczeń współczesnego świata. Klienci skarżyli się, że maszyny czyszczące są zbyt głośne, co ma duży wpływ na pracę. Tak dokonano zmian w projekcie prototypu. Zagłębienie, pierwotnie przeznaczone do zamocowania podgrzewacza, wykorzystano jako miejsce na wyciszacz. Dzięki temu udoskonaleniu maszyny Steempro pracują znacznie ciszej – można powiedzieć – pracują szeptem, bez straty dla pozostałych parametrów czyszczenia. Użytkownicy podkreślają, że podczas pracy mogą swobodnie rozmawiać – bez wychodzenia do drugiego pomieszczenia.
Seria Steempro jest dostępna w 3 wersjach:
- Powerflo
- Powermax
- Powerplus
Podgrzewacz Heat'n'Run o mocy 2800W jest dostępny jako opcjonalne wyposażenie Około 60% kupujących zamawia ten element wraz z maszyną.
Oferujemy także dodatkowe narzędzia do schodów, tapicerek, podłóg twardych oraz przydatne akcesoria podczas czyszczenia.