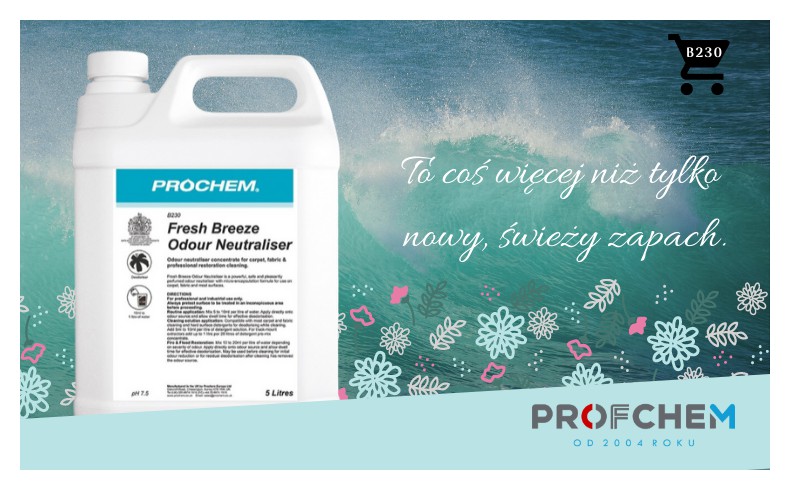 Pokochaj nowy zapach!
Świeża bryza to zapach wydzielany przez Fresh Breeze
Prochem Europe, specjalista w dziedzinie rozwiązań czyszczących, wprowadził na rynek koncentrat neutralizujący nieprzyjemne zapachy, wzbogacony o zwycięski świeży zapach ekologicznej bryzy.
Zupełnie nowy neutralizator zapachów B230 Fresh Breeze Odour Neutraliser został opracowany do stosowania na dywanach i tkaninach o szczególnym zastosowaniu w środowisku opieki zdrowotnej.
Neutralizator zapachów B230 Fresh Breeze Odour Neutraliser może być używany dokładnie tak samo, jak jeden z niezawodnych produktów Prochem - B124 Odor Fresh, rozcieńczalny wodą i nakładany przez rozpylacz lub dodawany do roztworu czyszczącego.
Jest jednak coś więcej niż tylko nowy, świeży zapach. Jest to koncentrat bez biocydów z bezpiecznym pochłaniaczem zapachów i przyjazną dla środowiska formułą, która chemicznie zmienia lotne zapachy, czyniąc je niewykrywalnymi jednocześnie neutralizuje amoniak, merkaptany, aminy i inne nieprzyjemne zapachy.
Dostępny do pobrania przewodnik na temat zanieczyszczenia moczu i usuwania powiązanych plam znajduje się tutaj <--kliknij!