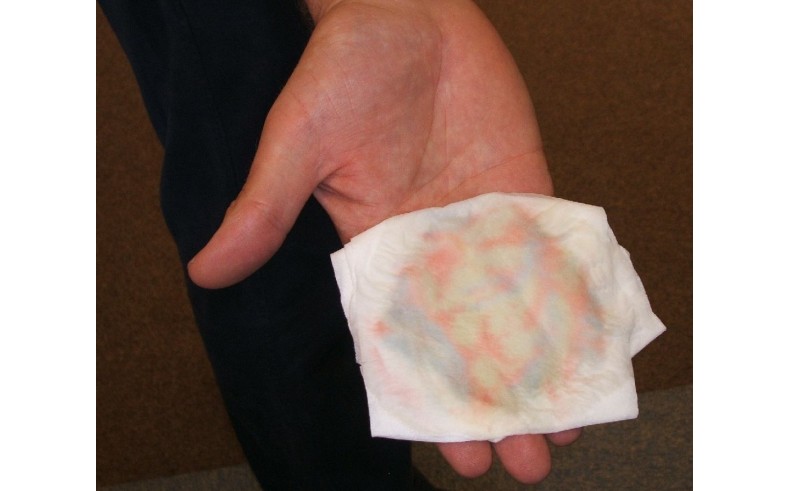 Test stabilności koloru
Przy doborze prespray'u należy pamiętać o ryzyku destabilizacji kolorów wykładziny. W celu upewnienia się, że można bezpiecznie czyścić danym środkiem, należy wykonać tzw. niebieski test stabilności kolorów. 
TEST NIEBIESKI 
1. Przygotować roztwór roboczy testowanego środka zasadowego.
2. Spryskać wykładzinę punktowo w mało widocznym miejscu.
3. Odczekać 3 minuty.
4. Przycisnąć pięścią do wykładziny kawałek białego ręczniczka, lub chusteczki i przytrzymać przez 30 sekund.
    - Jeśli na chusteczce pojawił się kolor wykładziny, to możemy mieć problem ze stabilnością koloru i należy wtedy wykonać
jeszcze test czerwony (patrz niżej).
    - Jeśli na chusteczce widzimy jedynie barwę roztworu oraz brudu, to znaczy, że kolor jest stabilny.
TEST CZERWONY 
1. Miejsce w którym był wykonany test niebieski spryskać roztworem roboczym środka kwaśnego B109 Fibre & Fabric Rinse.
2. Odczekać 3 minuty.
3. Przycisnąć do testowego miejsca czystą chusteczkę i odczekać 30 sekund.
    - Jeśli transfer koloru ustał, to znaczy, że będziemy po czyszczeniu w stanie ustabilizować kolory wykładziny i możemy
czyścić ostrożnie wykładzinę środkiem użytym w teście niebieskim, pomimo chwilowej destabilizacji koloru.
    - Jeśli nie udało się ustabilizować koloru, to definitywnie musimy zrezygnować z użycia tego środka.